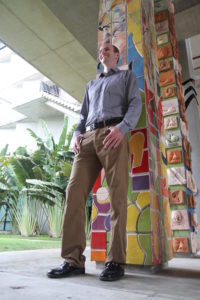 Roger W. Petersen (b. 1976) is currently an Assistant Professor of Composition and Theory at Del Mar College in Corpus Christi, Texas. Prior to his appointment at Del Mar College in 2013, he spent two years teaching in a similar capacity at Mahidol University in Bangkok, Thailand. A San Francisco native, he holds degrees from Michigan State University (DMA/Composition and MM/Theory), San Francisco Conservatory of Music (MM/Composition), and Sonoma State University (BFA). He has studied composition with Ricardo Lorenz, Elinor Armer, and Will Johnson.
His compositions have been recorded and commercially released on a number of albums. In 2012, Where Her Lingering Smile Resides was recorded by conductor Gudni Emilsson and the Thailand Philharmonic Orchestra; it appears on their latest album Faces of Love. In 2010, Chasing the Silence (saxophone quartet) and In Dreams (saxophone ensemble) were recorded by the h2 quartet for their second album, Times and Spaces. Other recent recording projects include In Dreams (chorus), recorded by the Freudig Singers of Buffalo New York, and Raining Light (wind symphony), recorded by Christopher Hughes and the Mahidol University Wind Symphony for the album Winds of Salaya.
Commissions have come from the Thailand Philharmonic Orchestra, Contemporary Enclave, Atlantic Harp Duo, h2 quartet, San Francisco International Music Festival, Southeastern Louisiana University, Schola Cantorum of San Francisco, Bay Area Composers' Circle, and MSU Wind Symphony. His music has been performed internationally and as part of numerous festivals, including the 2012 Thailand International Composition Festival, 2012 CMS Pacific Northwest Conference, 2012 CMS South Central Conference, 2012 CMS Pacific Southwest Conference, 2011 International Saxophone Symposium, 2010 CMS National Conference, 2010 San Francisco International Music Festival, 2008 World Saxophone Congress, and 2008 North American Saxophone Alliance.